September Special Offer! - Professional Diploma in CX €2395 - Professional Certificate in CX €420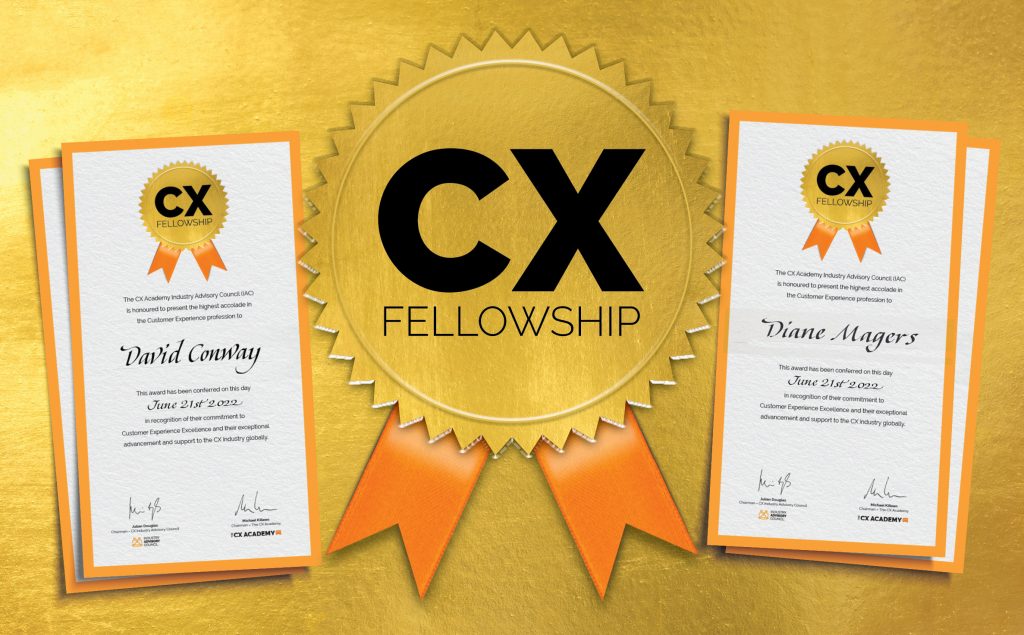 The CX Academy
Fellowship Award
The CX Academy launched the Fellowship in July 2022 to celebrate CX Excellence around the globe. The CX Fellowship is the first of its kind and the highest professional accolade and distinction (FCXA) our industry offers.
The Fellowship recognises leaders and those that aspire to be leaders in the CX profession. The CX Fellowship will play a major role in helping to position the CX industry as a professional discipline that is critical for business success.
The CX Academy is the largest Customer Experience education provider in the world with graduates in 80+ countries. It created the highly respected CX Industry Advisory Council in 2018 to set the global standard for CX certification globally.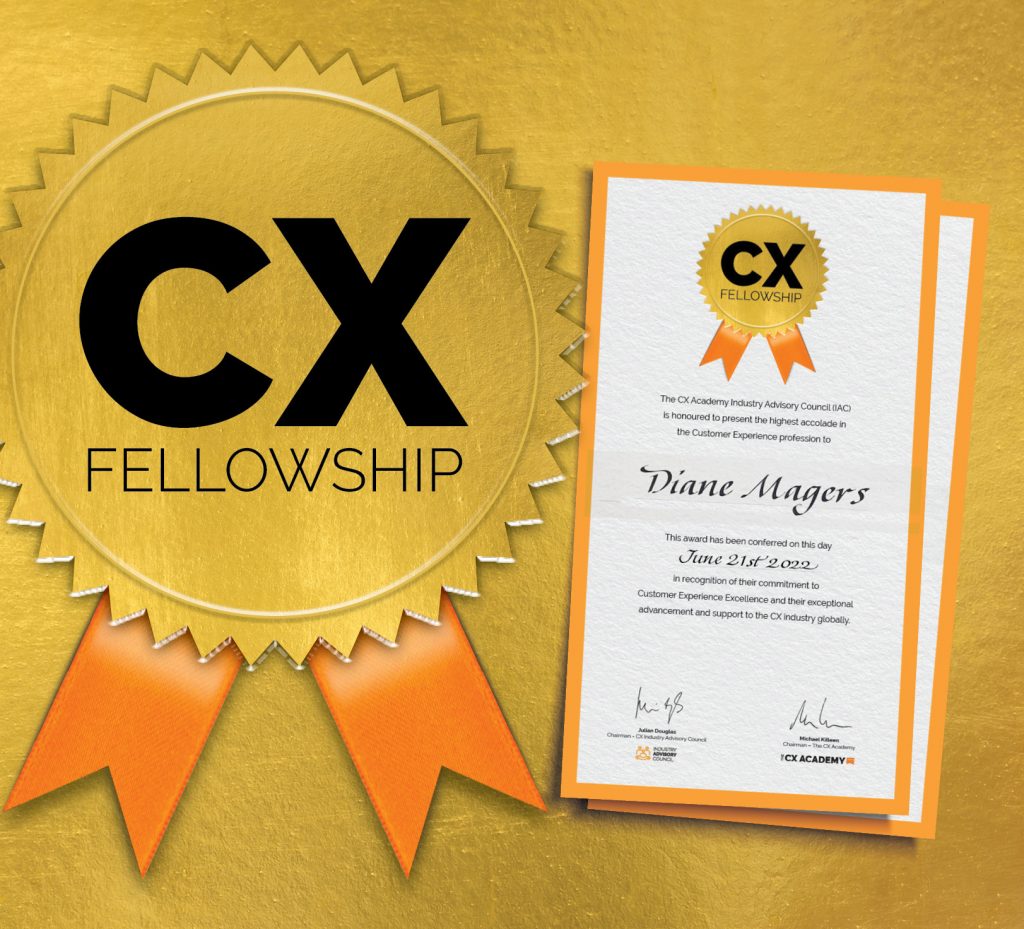 The CX Academy Fellows 2022
Chief Strategy and Customer Director KPMG Nunwood
David has served on the board as an executive director of three large UK financial institutions leading customer and marketing functions. He co-founded the Customer Experience business which specialised in CX transformation programmes. This included the development and design of CX technology platform Customer Experience Cloud and the methodological approaches to successful CX implementation. He created the Six Pillars of Experience the methodology for experience design and measurement now used by 100s of companies globally from Russia to Brazil. Worked with organisations like Virgin Atlantic, RBS, NatWest, Centrica, Woolworths Australia and many more which resulted in large scale improvement as measured by the CEE CX Index where each of these companies improved their position by 50 plus places.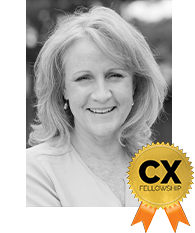 Founder and CEO Experience Catalysts
Diane Magers is an experience catalyst. Skilled in creating Experience Management business value and systematically changing organizations to align around experience and drive financial impact. She believes sustainable change requires embedding customer and experience capabilities into all parts of an organization. She specializes in enabling brands with skills and competencies like design thinking, journey management, and value mapping to drive sustainable shifts in how organizations work to achieve results. Over 25 years of transforming experiences working in and with brands such as Sysco, AT&T, State Farm, Dale Carnegie, CommScope, Invisalign, Ciena, Freeman, Cisco, and Sodexho.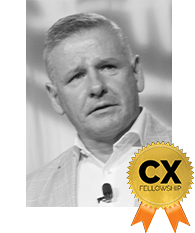 Head of CX at the Irish League of Credit Unions
Paul Bailey is currently Head of Communications at the Irish League of Credit Unions (ILCU). He is a firm advocate of the ethical imperative to provide excellent customer experience and service to both internal and external customers of organisations. Irish credit unions have come first in the annual CXi research report every year since the research began in 2015. He has over 30 years' experience at a senior management level in organisations across the statutory and voluntary sectors in Ireland. Paul is member of the Public Relations Institute of Ireland (PRII) and the Institute of Directors in Ireland and a former Board member of Barretstown.
Founder and Chair of Direxions,
a leading customer consultancy group in India
A postgraduate in Statistics, Leena spent 6 years in Media in Ogilvy & Mather, before starting DataBasics Direct & Media Services in 1992, specializing in Direct Communication solutions for the media industry. Today it is one of India's largest, most successful and most experienced loyalty and customer engagement agency. An industry stalwart, over the last 25 years Leena has been associated with over 80 customer relationship programs for marquee brands across retail, hospitality, financial services, telecom, CPG and healthcare industries, targeting customers, channel, employees and influencers. She is the Vice Chairman of the InterDirect Network of independent Direct, Digital Marketing and CX companies with members from over 20 countries and she has been a speaker at conferences in India and International Customer Relationship Marketing conferences.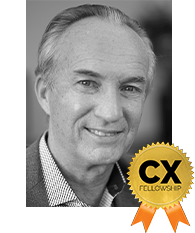 Acclaimed author,
speaker and co-founder of Peppers & Rogers Group
Recognized as one of the world's leading authorities on customer-focused business strategies, Don Peppers is an acclaimed author, speaker and co-founder of the management consultant firm, Peppers & Rogers Group. His new company, CX Speakers, delivers workshops, keynote presentations and thought leadership consulting focused on customer experience topics. Don Peppers' work routinely examines the business issues that today's global enterprises are grappling with while trying to maintain a competitive edge in their marketplace. He focuses on the customer experience and its related topics, which range from digital technologies, disruption, and innovation to customer metrics, social selling, customer success, customer advocacy, trust, and corporate culture. In 2015, Satmetrix listed Don and Martha Rogers #1 on their list of the Top 25 most influential customer experience leaders.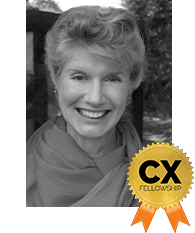 Acclaimed author, speaker and co-founder of Peppers & Rogers Group
Recognized for over 25 years as one of the world's leading authorities on customer-focused business strategies, Dr. Martha Rogers is an acclaimed author and co-founder, along with Don Peppers, of Peppers & Rogers Group. In 2015, Rogers founded Trustability Metrix, designed to help companies understand how they are trusted by customers, employees and business peers. Her latest endeavor with Don Peppers is the formation of CX Speakers, a new company which delivers workshops, keynote presentations and thought leadership consulting focused on customer experience topics. With co-author and business partner Don Peppers, Rogers has produced a legacy of international best-sellers that collectively sold well over a million copies in 18 languages. Their first book, The One to One Future (Doubleday, 1993), was called by Inc. Magazine's editor-in-chief "one of the two or three most important business books ever written,"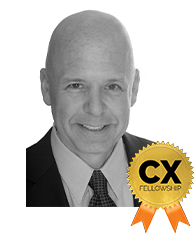 New York Times Bestselling author
Shep Hyken is a customer service and experience expert and a New York Times and Wall Street Journal bestselling author. Shep works with companies and organizations that want to build loyal relationships with their customers and employees. His articles have been read in hundreds of publications, and he's the author of 8 books, including his newest book I'll Be Back: How to Get Customers to Come Back Again and Again. He is also the creator of The Customer Focus™, a customer service training program that helps clients develop a customer service culture and loyalty mindset.
The fellowships will be awarded to CX champions around the world that have made a great impact (and still do) on the industry throughout their careers. It will recognise leaders and those that aspire to be leaders in the CX profession and further afield. In particular those who have gone above and beyond in the CX sector.
To ensure that this is the case we created a set of criteria to help the awarding process.
Among others, they need to have a deep knowledge and commitment to CX and EX, backed with a number of years of real-world experience. Each chosen fellow has to be involved in customer and employee initiatives that empower and motivate staff to do what is right for the customer. All fellows will be invited to join a global CX community to mentor and participate in future CX positioning initiatives. Essentially they will become the ambassadors for our profession in the future.
If you wish to recommend a future fellowship candidate, please email Julian Douglas at julian@thecxacademy.org and we will happily share the full selection criteria, rules of the program along with and a Fellowship application to help you prepare the relevant detail for our Industry Advisory Council meeting.
Please fill out the form and one of our team will be in touch to give you more details about the course and answer any questions you may have.
Or if you're happy to get started, you can
enrol today.