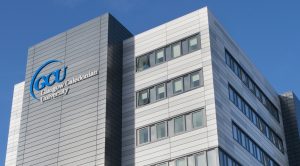 We are delighted and proud to announce today that our Professional Diploma in Customer Experience (CX) has been credit rated by Glasgow Caledonian University (GCU).
This is a significant, internationally respected and recognised educational body. GCU would be considered one of the UKs top universities and they have over 20,000 students and 1,600
administrative staff.
We've looked around and as far as we are aware no other CX courses are credited rated or accredited by an official university.
GCU were a natural fit for us. They understand business and have a well developed understanding of the 'university to business' mindset.
They know that programmes must be practical, accessible for professional learners and underpinned by solid theory.  They have been our partners during this whole process and we are delighted to be
working with them.
Now, the CX Academy's Professional Diploma in CX is the first globally recognised, university credit-rated qualification for CX.
The programme is rated by the Scottish Credit and Qualifications Framework (SCQF) at Level 8 qualification which equates to a Level 5 in the European Qualifications Framework (EQF).
Please ask ana@thecxacademy.org if you want more information on the Professional Diploma in CX.

Thanks!