UPDATE: Due to the current demand from learners working from home we can now start your course immediately or at any time that suits you. Please ask us
.
July 14th, 2020
Please join us on Thursday July 30th 2020 at 2pm for a 40 minute free webinar to help you choose the right CX qualification for your career.
You'll learn:
-How CX benefits your business
-What a CX qualification does for your career
-How our CX courses work
-Which course is the best for you
We'll look at the Professional Certificate and the Professional Diploma and afterwards you'll have a very clear idea which course is right for you!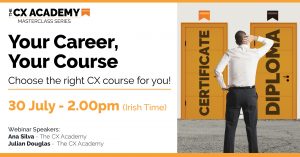 With all of our courses you will learn:
– A deep understanding of CX, the skills and tools required to create new strategies and drive improvement in existing strategies
– The confidence and knowledge to discuss and implement CX strategies with senior leadership at the highest level in your organisation
– A step by step guide to manage and embed a world class CX programme and build a culture of staff empowerment
– The expertise to advance your career and to speak the language of leadership
Categories: CX Article